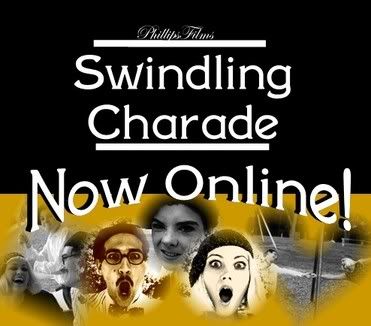 View the film online now!

Silent Film Series

The Story Behind the Movie
I had a few ideas about doing 1920's-1930's silent short comedies for a while. I remember first telling Brooke Willhite about it. Oddly enough she had the same idea as well to do some shorts. So I knew that I had a good idea if one of my other team members was thinking along the same lines as I was.
I knew from the get go that I didn't want to shoot this on video what-so-ever! If I didn't have the funds to do them on film, then I would just put them on the back burner and wait till I had enough to shoot them on film. Late last year I won a 16mm Bell and Howell camera off Ebay for $10.00!(plus $10.00 for shipping!) I was very excited to try and do something, but I wasn't sure if the camera would work and produce good images. So I shot the first "test" Black and White film in March and when it came back I was so surprised! IT WAS GREAT IMAGES!!! SUPER CLEAR and ROCK STUDY pictures that I had captured! Way better than DV or HD! I mean you could see all the details imaginational on the screen. So now with that test back I was going to move forward with my series of silent films.

I wanted to do what the greats did back in the silent screen era(Chaplin, Keaton, Lloyd to name a few.) They never worked with a script so I wanted to do the same. So I started thinking up of a few stories ideas. I showed Brooke the test film I had shot and she quick ly wanted to be apart. I didn't have an idea what my character should be called, and she thought I looked like an Arthur. So that stuck. I then ran the story ideas by Brooke who had now become Vera in the film. 16mm was a little too high for the first short, so we shot on Super 8 Black and White. She gave her input that helped and I was off to cast "the kid" for the short. Basically what happens in the first short is Arthur see's Vera and wants to talk to her, but he can't pull himself to do it. He calls a kid(Michael Reiser) to steal her purse and he'll be able to save the day and talk with her. But not before Arthur has to pay the kid to do this.

We shot this in August 2005 and it came out great! It looks just like a period silent film. Look for a few pics below or on the next page to see us. Again the pics you see are just from the digital camera and not the Super 8 film image.
September 2005: Editing is now starting on this project. In the next few weeks you'll see the short on here! Stay tuned!

January 2006-The short is now online for all to view!
Cast/Crew for Swindling Charade
Arthur - Cohen Phillips
Vera - Brooke Willhite
The Kid - Michael Reiser
Cinematography by Dan Phillips
Directed and Produced by Cohen Phillips Images